Lineman - Ocala Electric Utility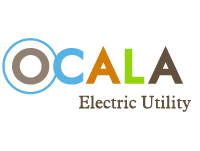 Description
This is a highly skilled, labor intense and hazardous position that requires individual to work outdoors and perform electrical work relating to overhead and underground electrical facilities in a variety of voltages from 110 to 230,000 volts. This position normally reports directly to the Line Crew Foreman.
Examples of Duties
Performs construction and maintenance job tasks associated with electrical lines. Operates bucket trucks, derricks, trenchers, hydraulic tools, chain saws, other tools and equipment as may be required. Conforms to policies and procedures for safe work practices, area protection, proper use of vehicles, tools, and equipment associated with accepted line work practices.
Visually and audibly detects malfunctions of equipment and safety hazards. Works on energized electrical power lines, equipment, and devices without interruption of normal electric service.
Physical strength and endurance to operate tools and equipment for extended periods from bucket, poles, ladders, vaults, trenches or confined space.
Communicates with other employees in person and by two-way radio, politely and clearly and also communicates in person at job sites to customers.
Assists in training and instruction of other personnel. Provides "on the job" training in the field to fellow crew members on proper use and operation of equipment, climbing techniques and proper procedures and safety practices.
Availability during emergencies is required with rotation to stand-by on a regular rotation.
To view complete description and to apply visit here.